Walt Whitman
High School
Class of 1969
In Memory
Eric Lindstrom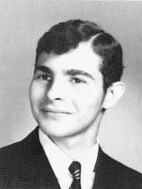 Dear Whitman 69ers,
I'm sorry to report the death of our friend, Eric Lindstrom,
on October 31, 2017.
He enjoyed attending the 40th reunion and meeting up with many
Whitman friends.
May his soul rest in peace+
I know Eric from church at St John Neumann and we were members together of the Mother of God Community in Gaithersburg. His funeral was last Saturday, but I don't think his sister entered an obituary. I can't find one online. He donated his body to science, so I don't know which funeral home handled that exchange.... probably DeVol in Gaithersburg. I can try to find out more as his death becomes public.
I just knew he'd like our classmates to know of his passing.
That's all I am aware of at present.
Elaine Groves Schneider '69