Walt Whitman
High School
Class of 1969
In Memory
Robert M. Lehman VIEW PROFILE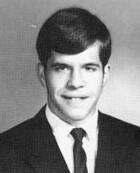 Robert Miles Lehman, 60, of Edsel Road, Traphill, died Monday, Aug. 15, 2011 at Forsyth
Medical Center.
A private family memorial service will be held at a later date.
Mr. Lehman was born June 3, 1951, in Washington, D.C. to Horace and Joan Cannon Lehman.
He is survived by his wife, Genevieve Virginia Gray Lehman; one son, Charles Robert Lehman and wife, Heidi, of Hagerstown, Md.; one stepdaughter, Linda Caw of Frederick, Md.; one stepson, David Fessenden and wife, Lesia, of Jonesville; one sister, Nancy Ryan and husband, Kevin, of Gaithersburg, Md.; one brother, Karl Lehman and wife, Ondina, of Atlanta, Ga.; and five step-grandchildren.
Memorials may be made to American Cancer Society, 87 Montview Drive, Sparta, N.C. 28675; or to the Humane Society of Wilkes, P. O. Box 306, North Wilkesboro, N.C. 28659.
https://www.journalpatriot.com/obituaries/robert-lehman-traphill-resident-dies-on-monday/article_3e6c4ae6-cb4e-11e0-b565-0019bb30f31a.html
Click here to see Robert M.'s last Profile entry.