Walt Whitman
High School
Class of 1969
In Memory
Joan Kreimann (Ecclesine)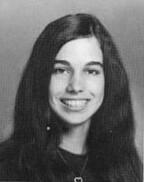 Deceased The Mighty '69ers: Joan Kreimann Ecclesine
Date Of Birth:
Date Deceased: 11-11-2018
Age at Death: 67
Cause of Death:
The Mighty '69ers City: Los Angeles
The Mighty '69ers State: CA
The Mighty '69ers Country: USA
Was a Veteran: No
Survived By: husband and son

Joanie was never one to grab the spotlight and likely slipped by many of you through the years. But to know her was to be treated to the her iridescent smile and infectious laugh, to bask for a while in her genuine acceptance of human foibles, and to enjoy a mischievous turn now and then. We were best friends through junior high and wove in and out of each other's life thereafter. She was a very special lady who bore the ravages of a long and cruel illness with grace and humor. I miss her every day.
Susan Sharp
This information about Joan's passing was provided by Susan Sharp.