Walt Whitman
High School
Class of 1969
In Memory
James L. Kaler, Jr, Esq.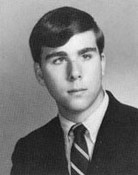 JAMES L. KALER, JR. (Age 63)
Father; Lawyer

James L. Kaler, Jr., 63, a retired lawyer who tried communications and criminal cases in Washington, DC, died June 6, 2015 at the Lower Cape Fear Hospice & LifeCareCenter in Wilmington, N.C. He lived in the Washington, D.C. area until 2007.
Mr. Kaler grew up in Bethesda, Md. and graduated from Walt Whitman High School in 1969. He graduated from the University of Virginia with a Bachelor of Arts with distinction in 1973. He moved to Nashville, T.N. to attend the Vanderbilt University School of Law, graduating in 1980. He was admitted to the District of Colombia Bar Association shortly thereafter.
With a focus on communications and criminal law, Mr. Kaler was employed at two firms before becoming a sole practitioner. He advised clients on compliance with FCC rules and statutes including transactional work on mergers, transfers and licenses. He participated in the Superior Court Trial Lawyers Association and was published in several law journals, including "The Journal of Corporation Law" and "The Journal of Copyright, Entertainment and Sports Law."
Mr. Kaler had strong ties to Wilmington, NC and moved there in 2007. He spent his time playing golf, fishing and reconnecting with family. He enjoyed playing golf casually and competitively, placing first in the Wilmington City Senior Amateur tournament in 2013.
He is survived by his two daughters, Kelly and Lindsey. Both are pursuing degrees at the University of Virginia.
The family will receive friends at Andrews Mortuary on Market Street in Wilmington from 5-7 p.m. on Friday, June 12. A funeral service will be held Saturday, June 13 at 11 a.m. at Oleander Memorial Gardens on Bradley Drive. Memorial gifts may be made to Camp Sea Gull and Camp Seafarer, 2744 Seafarer Rd., Arapahoe, NC 28510 to support a campership endowment.