Walt Whitman
High School
Class of 1969
In Memory
Peter Joseph Day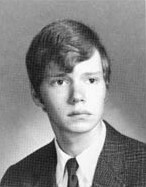 Reported by Peter Jones:
Peter JOSEPH Day was born on June 20, 1950 and died on July 01, 2010 at the age of 60. He last resided in Tucson, Arizona in Pima County.
Paper: Arizona Daily Star, The (Tucson, AZ)
Deceased: DAY, Peter J.
Date: August 26, 2010

60, carpenter, July 1, East Lawn."

In the 1970s Peter Day was the caretaker for the Sycamore Island Club. I was there this July and the present caretaker told me that Peter's brother Frank had come down and had mentioned that Peter had passed. That is how I found out. Unfortunately, I don't know any of the details.

His ashes are interred at Oak Hill Cemetery in Georgetown.
I first met Peter Day in the Mountaineering Club. He, Steve Hillhouse, Glenn Patterson and I drove up to Mt. Washington and Tuckermans Ravine to go hiking and skiing over Spring Break our junior year. We remained friends throughout the rest of high school. Afterwards Peter stayed in Bethesda mostly and I would see him when I returned to the area. In the mid-seventies he was the caretaker for the Sycamore Island Canoe Club in the Potomac below Glen Echo. When I was in town I would go down to the river and we would hang out together. He was a witty and adventurous guy. Eventually he moved out to Tucson where he worked as a carpenter. I hadn't heard from him in a few years and I was very sad to hear from his brother that he had passed away.