Walt Whitman
High School
Class of 1969
In Memory
Charlotte Beckett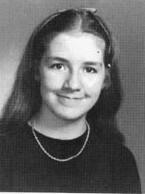 Randell Weiss is the source of this information on Charlotte Beckett--
Charlotte Martha Beckett
21 Oct 1951 - 16 Oct 2000
AKA Charlotte M. Canales, Charlotte B. Canales
Last resided in Rockville, MD 20852.
Only child of Dr. Charles William Beckett (23 Sep 1907 - 3 Feb 1983) & Helen Jaeger Speiser Beckett (Abt. 1914 - 1972). Step-sister of Helena Jones, formerly of Eau Claire, WI; Michael G. R. Speiser of Frederick, MD (16 Jan 1943 - 18 May 1987); and Tricia McCort, formerly of Elkridge, MD.
She was a shy girl with a good heart and a lovely smile. I knew her from international folk dancing led weekly by Larry Wiener. She enjoyed making ceramics so much that she went to Alfred University in Alfred, NY to study it professionally, but she may not have graduated.
Something brought her back to Maryland, perhaps the ill health of her mother who passed in 1972 before the age of 60. Charlotte's father was attacked by rheumatoid arthritis at the age of 16, leaving him bedridden for many years and walking on crutches ever after. Charlotte herself was hospitalized awhile in her youth. Perhaps her health was fragile as well.
It is difficult to find traces of Charlotte Beckett on the Internet because so many women share the same name and because her life was so abbreviated. I want to thank Dean Osgood who confirmed that I found the obituary of her father (Washington Post, 5 Feb 1983) where she is recorded as Charlotte Beckett Canales of Silver Spring, MD but without mention of a son-in-law.