Walt Whitman
High School
Class of 1969
In Memory
Nancy Goodhue (Lynch)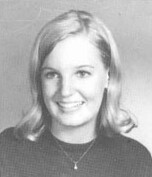 Written by Joan Goodhue (sister):
Deceased Classmate: Nancy Goodhue
Date Deceased: 2000
Age at Death: 49
Cause of Death: lung cancer
Classmate City: Braham
Classmate State: MN
Classmate Country: USA
Survived By: brothers/sister : Alan, Dale, Joan husband : Michael J. Lynch

Nancy lived fully, for her 49 years! Even after her lung cancer diagnosis at age 45, she continued working as long as possible, and remained optimistic. She worked for many years with Datatel Corporation, a Virginia company, in several different positions, including vice president. She also worked for the company from Ohio, and from Minnesota. In one position, she oversaw the users group of colleges and universities using Datatel's software for enrollment, etc. After her death, Datatel offered an educational scholarship in her name, for 7 years --the Nancy Goodhue Lynch Scholarship. Nancy was a beautiful person, and lived life with enthusiasm, optimism and intelligence, and with an open heart and mind. Her life still speaks; her courage and light still shine.