Walt Whitman
High School
Class of 1969
In Memory
Charlotte Beckett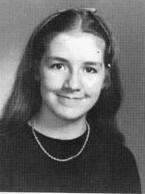 Randell Weiss is the source of this information on Charlotte Beckett--
I had looked for signs of Charlotte Beckett without success, but after I succeeded in finding Lucy Roedder, I tried again even though hers is a common name. I didn't want to believe what I found because this Charlotte Beckett died at age 48, but Dean Osgood confirmed that I found the obituary of her father (Washington Post, February 5, 1983), which recorded her as Charlotte Beckett Canales of Silver Spring. I could not afford to search for her death notice. I don't know what her health problem was, but she was hospitalized awhile growing up.
Charlotte Martha Beckett
Born October 21, 1951
Died October 16, 2000
Only child of Dr. Charles W. Beckett & Helen Jaeger Beckett
AKA Charlotte M. Canales & Charlotte B. Canales (but probably divorced and without children)
Last lived (or was hospitalized) in North Bethesda, MD 20852
She was a shy girl with a good heart. I knew her from weekly international folk dancing led by Larry Wiener, which he is still leading 50 years later. Ceramics was such a big hobby with her that she went to Alfred University in Alfred, NY to study it further, but she may not have graduated. Something brought her back to Maryland, perhaps the ill health of her mother who passed in 1972.